Looking for crash tested dog car seats, harnesses, dog seat belts, or crates for car travel can be overwhelming – to put it mildly! Dog car restraint manufacturers tout their products as "crash tested," but a fair number don't mention that the product failed the test!
Finding reliable dog safety restraints took some detective work.
I found some companies that crash tested their dog seat belts and crates through the Center for Pet Safety (CPS). Other manufacturers, I discovered, choose to use independent third party crash test companies and had the results on their product pages. To find those, I searched the web and looked up resulting products one by one to verify testing results.
I was left wondering what the difference is in the testing processes? And why weren't all companies using the same one?
Read on for a summary of what I learned, and to see what products will keep your dog safe when it is riding in your car.
Do I Really Need a Dog Car Restraint?
YES. This is a no-brainer, people.
Letting your dog have free roam of your car is unsafe for a number of reasons.
The obvious reason is that your dog could be severely injured, killed, or lost in an accident. You buckle your seat belt, why would you do anything different with your dog? A crash tested dog car seat can be a life saver.
The dog could also injure someone in the car; in an accident an unrestrained dog will fly through the car and possibly injure whoever it impacts.
Finally, a loose dog in the car can cause an accident. This graphic from carrentals.com illustrates how dogs can cause accidents by distracting the driver.
How do I Evaluate Different Dog Seat Belts?
To evaluate which dog seat belt is best for your dog, or if a crate would be better, you need to consider the following:
Weight of dog
If your pet is 15 lbs. or less, there are soft sided carrier options (in addition to harnesses and crates) that can be used for both transporting your dog and as a car safety restraint.
If you have a dog heavier than 75 lbs, you will find that many dog car restraints aren't certified for this weight.
One good method is to contact a manufacturer that advertises a car restraint for that dog size to see if they have any testing data for heavier dogs. I contacted 2 manufacturers of harnesses for large dogs > 75lbs:
Kurgo said they are waiting for their harnesses to be tested for dogs weighing over 75 lbs. but the tests have been delayed.
Ruffwear said their Load Up Harness has passed independent testing, but they want clients with large dogs to be aware that in an accident any large dog is more likely to impact the seat in front of it due to the size of large dogs and the fact that our auto seats are spaced close together. They believe that their harness is still the safest option for large dogs.
Wes Siler wrote an excellent article in Outside Online that explains this in great detail; if you have a large dog, I would highly recommend reading it. He interviews the designer of the product and they discuss why the company chose not to move the point of attachment higher up on the dog's back, which might have lessened the seat impact problem but in Ruffwear's opinion would have increased risk of a different injury.
The Sleepypod Clickit Terrain is the only harness the CPS has certified up to 110 lbs, you can see the crash test below.
Type of vehicle
When comparing different types of car safety restraints, you need to take the size of your car (and your family!) into account. People driving a sedan can't fit a crate in the car, but those driving an SUV can. A large family may have an easier time fitting the dog in the car if they use a dog seat belt.
Does your dog get carsick?
If so, crates make for easier cleanup when your dog gets sick in the car during travel. (I would also suggest fasting the dog before car travel, talk to your vet about this)
Is There One Central Testing Agency for Crash Tested Dog Car Seats, Seat Belts, & Crates?
Looking for crash test data on dog car seats was a little more complicated than I anticipated.
From the information I read on different websites, it became clear that there are differences in opinion in this industry on specific details of how to test dog safety restraints, how much it should cost, and what the testing standards should be.
The more I learned, the more I realized that I can't learn enough by googling this or talking to people to attain enough knowledge to say that one testing method, or certification agency, is better than another.
One thing I learned is that even if you use testing facilities that have the same testing equipment and safety standard requirements, there are no standard dog testing dummies – and that alone can change the test results.
Lindsey Wolko of the Center for Pet Safety (CPS) told me the following story to illustrate how two different testing dummies ("simulants") resulted in two different crash test results:
"Our team worked with a NASA engineer to develop our dogs – and we are now working with two universities. What we have experienced in comparative testing is that some of these brands use simulants that are bottom heavy – and their testing may produce a different result. We did a comparative test at a university that "passed" one of the brands on your list. Well – using our dogs, the university staff was stunned when the product failed. Same facility, same equipment, same techs – different dog. The test dog weight distribution and center of gravity matter. "
Dog Safety Restraint Certification
The organization that certifies pet safety restraints in the U.S. is the Center for Pet Safety (CPS).
Certification is not mandatory for Dog Safety Restraint Manufacturers. What that means is that it is a "buyer beware" market; you have to do a lot of research to decide if you can trust what a manufacturer is saying.
The CPS has created a certification program in which manufacturers submit their products to the CPS to be tested. If the product doesn't pass, the manufacturer then makes needed modifications until their product passes the crash test.
Once they have passed the test, manufacturers are certified and can list CPS certification on that product's packaging and webpage.
Manufacturers participating in the certification process must also do the following in order to earn CPS certification of their product:
contractually agree to notify the CPS of changes to the product
retest required after any product changes
recertify periodically
The CPS website has a list of dog set belts/harnesses, carriers, and crates that have passed product testing. You can find links and pictures to the products that received certification later in this article.
Before you Shop: Crash Test Fails
Part of my education was realizing what happens if you use a dog safety restraint that doesn't pass safety testing.
If you are considering a dog car harness, crate, or other dog car restraint, please watch these tests of what happens when the products fail. It will help you understand the importance of the testing, and justify paying more for a product that has been tested and passed with flying colors.
Trust me. Your jaw will hit the floor on at least one of these videos.
Dog seat belt fails
Plastic kennel fails
Wire kennel fails
Barriers
Dog barriers are another method people use to keep their dogs confined in cars. A good quality barrier will keep your dog from injuring other car occupants in a car crash, as it will stop them from flying around the car.
However, it does not prevent your dog from the possibility of serious injury. In an accident, your dog could easily eject through one of the rear side or hatch windows, injuring it severely and exposing it to secondary injuries (being hit by a passing car) and getting lost.
Manufacturers Who Chose Not to Pursue CPS Certification
**Note: this post contains affiliate links. No one paid me to recommend these products, I recommend them because I like them. By using the link to buy the products you are helping support happyynaturaldog.com**
Some manufacturers choose to have product testing done at independent third party testing facilities.
Ruffwear has a Load Up Harness FAQ page for its dog seat belt. The FAQ page details where the harness is tested, what standards it is tested against, and shows test pictures and videos.
In the comments section of the FAQ page Ruffwear gives a detailed explanation of why they have chosen not to submit the harness for CPS certification.
Ruffwear used CPS dog dummies to complete their testing. Their small and medium harnesses passed the CPS test, but the larger harnesses failed because they allowed the dog to impact the seat in front of them.
For the medium and large/XL harnesses to pass the CPS test, Ruffwear would have to move the seat belt attachment point higher on the dog's back. Ruffwear believes this is more dangerous for the dog because even though it prevents seat impact, it results in the dogs bottom half flipping out & over on impact and directing forces through their bodies in unnatural ways.
Ruffwear spoke to the CPS and discussed their difference of opinion on this issue, and the two agreed to disagree. For this reason Ruffwear did not pursue CPS certification. You can read about it in more detail in the Outside Online article I mentioned earlier in this post.
Kurgo has also chosen not to pursue CPS certification. It does not detail why on its website. They do, however, crash test their harness at an independent third party facility certified for testing by the National Highway Traffic Safety Administration. The crash testing reports and videos are posted on their product pages, as well as on this testing methodology information page.
Products with Center for Product Safety (CPS) Certification
Harnesses
The Sleepypod Clickit Terrain is the only harness approved by the CPS for larger dogs up to 110 lbs.
Allsafe Car Harness
The Allsafe Car Harness is not approved by the CPS, even though its harness, in one configuration, passed the CPS crash test.
Understanding why will make you a more educated consumer. The Allsafe Car Harness is sold with a tether. When the harness was tested with a tether, it failed. Watch the video below, it's not pretty.
When it was tested without the tether it passed. But…will the person who buys it know not to use the included tether? Doubtful.
So if you see a harness that says it passed a test, look a little deeper into it before buying. Which test did they pass? Does that organization have certification, and if so, the product receive certification?
NOTE: Do NOT use with any of the tethers that may come with it, put seat belt directly through harness. See Crash test results below that show what happens with a tether.
Crash Test Pass When Used With NO Tether
Carriers:
Crates:
VarioCage Single Crash Tested Dog Travel Crate
This crate not only tested to see if the crate kept the dog safe, but also tested to see if the passengers in the seat in front of the crate were injured by the crate's impact – impressive.
Lucky Duck Kennel Intermediate with Lucky Strength Rated Anchor Straps
How do I Choose the Best Dog Seat Belts and Crates?
Note: There are many fly-by-night manufacturers of car restraints for dogs. They make products and either don't test them at all, or test them and list them as "crash tested" even though their product failed the test.It's important to take the time to verify the crash test results and where they were done.
Unfortunately, there is no easy one website stop-n-shop where you can look at all the dog safety restraints for car travel. You have to do your homework: here are things to look for on a product page.
What kind of guarantee do they offer on their products?
Do they say their product is crash tested?
Do they say it passed the tests?
What agency did they use for testing?
Do they have videos of the crash tests and a link to read the crash test report?
Read product reviews! Every product will have a poor review here and there, but are there repeating themes of product defects, rude or non-existent customer service, or other issues? Anything you read about multiple times should serve as a warning sign.
Call and talk to the company you are considering purchasing from.
Do they seem helpful and knowledgeable?
Do you feel like they will work with you if the safety restraint isn't fitting correctly or you have other questions/problems?
Are they willing to share safety test results if they aren't on the website?
Keep Your Dog Alive with Dog Safety Restraints
Regardless of the type of dog seat belt you choose, pat yourself on the back! Whether you choose a dog seat belt/harness, a carrier, or a crate, your dog will be measurably safer – as will the other occupants of the car.
It's always tempting to let your dog sit on our lap or move freely about the car, but dog owners need to remember that keeping your dog in a safety restraint in a moving vehicle could be life saving.
Naturally,
Karen
P.S. Are you buying a dog seat belt or crate to use on a vacation, camping trip, or hiking adventure? Check out these articles for great tips for adventuring with your dog!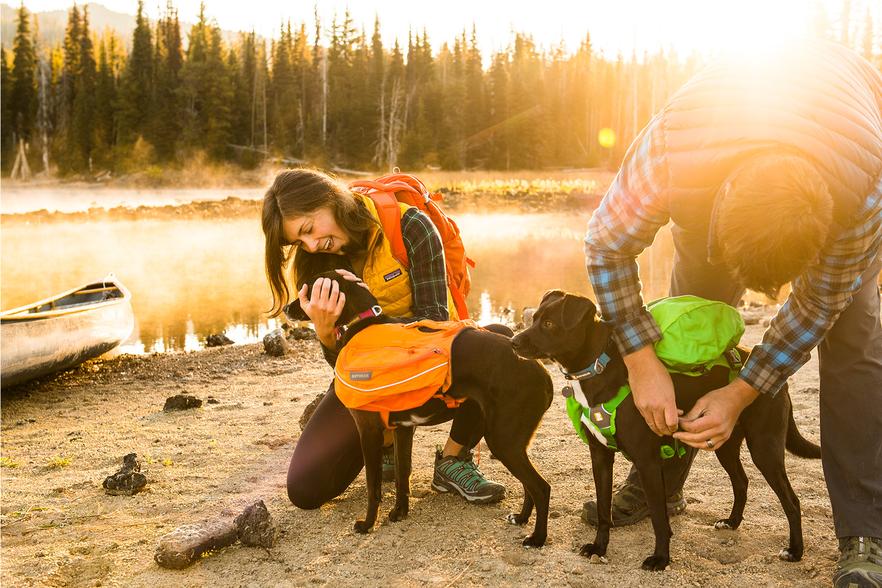 Want to save this article for future reference? Save this pin to your Dog Travel board!