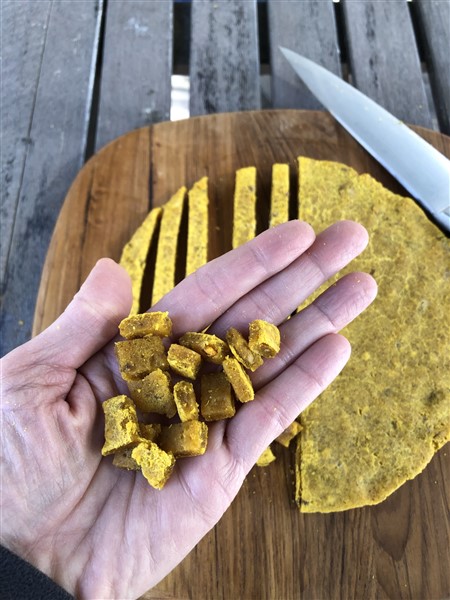 After writing about the benefits of canned pumpkin for dogs, I decided to embark on a mission to make up a good homemade pumpkin dog treat recipe.
I had very specific goals:
Easy to make
Healthy
No ingredients that my dog reacts to (i.e. no oatmeal)
Soft, not crunchy or crispy
Would not crumble all over creation when cut into pieces
Good smell for training my reactive dog (if the dog is "meh" about the treat he's not going to be distracted by the possibility of earning it!)
Most of the store-bought pumpkin dog treats and online pumpkin dog treat recipes are crunchy treats that you make or buy in cute little bone-shapes, but that was not my goal for this recipe. Instead, I was picturing those soft pumpkin dog treats that come in tiny little bags that cost a fortune—if I could figure out how to make my own, I could save a boatload of money!
How Does One Make Up A Pumpkin Dog Treat Recipe?
That is actually a really good question—I had absolutely no clue when I started this article.
On top of that, I'm not a natural-born chef. I don't have the gene where you can look at something or taste it and say "Oh, that needs more salt" or "I think I added too much flour."
But, fortunately for me, my dogs aren't picky. They will pretty much inhale 90% of anything that falls on the floor, which bodes well for my chances of them liking my treats.
So, I did what any type A dog owner would do – researched a bunch so I felt like I knew a little bit about what I was getting myself into, then started to experiment!
Disclaimer: I am not Julia Child
Before we start, I think it's important for you to know that this is not the recipe to try if you want cute dog treats.
Or if you want treats that look the same each and every time.
Not gonna happen, friends. I am all about functionality and health. Cuteness is the last thing on my dog treat list. And let's face it—dogs DO NOT CARE if it's cute, it's all about taste!
That said, if you want treats that are healthy…that your dog will LOVE…and love enough that when you're training they have some interest in figuring out how to earn the treat…then you will like this recipe!
And also, if you want to be able to use smaller treats, so your dog won't gain 5 pounds every time you need to train them to do something, you have come to the right place.
Now that we've got that out of the way, let's get started!
Figure Out Rough Proportions of Pumpkin Dog Treat Ingredients
The first thing on my list was to figure out the rough proportions of ingredients, as in how much dry vs wet.
To do this I looked in a few dog books that I have and read online to see (in general) what proportions of flour, pumpkin, oils, etc. go together. After a while I started to get a feel for roughly how much dry ingredient went with how much canned pumpkin.
The Secret Ingredient – Don't Skip This Part!
Next, I stumbled onto an awesome website with a game-changing secret ingredient: tapioca flour.
Eileen Anderson of Eileenanddogs.com explains that if you want dog treats that are soft and that don't crumble, using tapioca flour instead of regular flour makes all the difference. And she was SO right!
The tapioca flour keeps the treats soft and more chewy, plus it's grain free if you prefer that for your dog. I can verify that it is different from other flours: for one batch I tried using 1/2 rice flour and 1/2 tapioca flour, and the resulting treats had a more crumbly exterior.
Her article talks about playing around with different ingredients, and gave me the courage to experiment to make my own recipe!
Make A List Of Possible Ingredients To Use In Your Pumpkin Dog Treats
Next I made a list of what ingredients I wanted to have in my dog treats.
There are sooooo many ingredients you could use. Infinite numbers. The more dog treat recipes I looked at, the more ingredient ideas I saw. For me, I wanted it to be somewhat simple, but also have a small variety of healthy ingredients, so my list consisted of:
Canned pumpkin
Some type of flour or dried ingredient
Leftover freeze dried dog treat crumbles (I've always wanted to use them in treats and had about 4 cups worth saved up)
Egg (this one was a maybe)
Salmon (this was not on my first list but ended up in the recipe, read on to see why….)
Time To Wing It!
Now it was time to try it out. I mixed some tapioca powder, canned pumpkin, egg, coconut oil, and freeze dried dog treat powder together and when it was a little too runny just added tapioca flour until the consistency was right – so that I could form a patty that wasn't too sticky.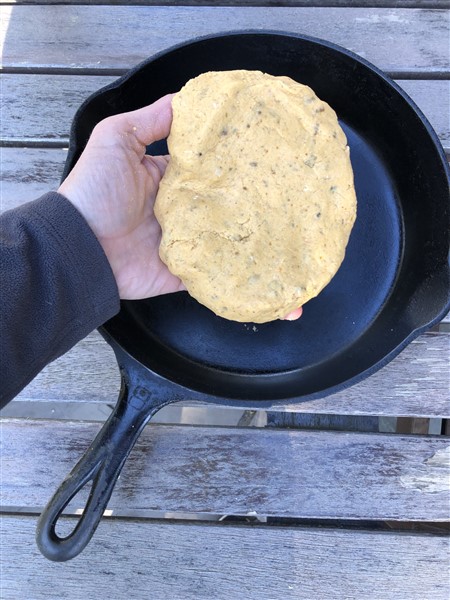 But when I smelled the dough, it smelled really bland. And I started to worry that my dog would think it wasn't that tasty of a treat, which defeats the whole purpose.
What could I add to make it a "higher value" treat?
I had originally purchased some frozen tripe at the pet store to use in my pumpkin treats because I had heard it is REALLY high value (smelly), but the more I read about it and its horrible smell, the more afraid I became to put it in my oven and have the smell wafting through my house.
So I went with the next best option: canned salmon.
I added about 3 tablespoons of salmon, mixed it in well, made my "patty" of dough again, and put it in an oiled 10" cast iron skillet.
The Result? Yummy Pumpkin Treats For Dogs!
After 15 minutes in a 350º F (177º C) convection oven (a bit longer for non-convection), they were done!
I took them out, flipped them out of the pan, let them cool, cut them up, and vwa-la! Tiny soft little dog training treats! They don't smell fishy to me and my hands don't stink after handing them out, but my dogs definitely smell the salmon and are all eyes when I take a bag of these out of the frig.
I put about 1.5. cups in a ziplock bag, put one in the frig, and the rest in the freezer to keep them fresh.
And HEALTHY Too!
Bonus—now when I'm treating Tico or Rose on walks to do counterconditioning and desensitization (reduces their reactivity when they see other dogs), I'm giving them healthy canned pumpkin plus healthy coconut and Omega 3 oils – talk about a win-win!
Additional bonus: I didn't plan this one, but the week after making all these treats I ended up with a 6 month old foster puppy. New puppies need lots of treats, but they also get diarrhea easily. . . so you have to be careful. Fortunately I had these awesome pumpkin treats, and pumpkin actually helps keep a dog's stool nice and formed. Since they're mostly pumpkin they aren't too rich, and if I give her a bunch it doesn't affect her stool one iota. Big win!
Ingredients and Pans
If you're an online shopper, here are some easy links to buy the supplies:
I like the Lodge brand for a number of reasons. Pans are made in the USA by a family owned company, and the company consciously incorporates eco-responsibility and social responsibility into its culture and mission.
Pumpkin and Salmon
Variations to try
Change up the ingredients
If you're feeling adventurous, you can come up with your own ingredients. Here are a few ideas:
Canned sweet potatoes
Applesauce
Shredded chicken, pork, or beef (pulse in food processor)
Tripe (I'm too chicken to try this, but if you do—let me know how it goes!!)
Peanut butter
Almond butter
Blueberries
Apples
Oatmeal
Cheese
You will have to play with the recipe to get the right consistency before you bake it, but believe me—if I can figure this out, anyone can!
Try different pans
If you don't have a cast iron pan, here are a few other pans you could try:
Silicone Pyramid tray
These trays have tiny little triangle shapes you can use to make tiny dog treats! I read mixed reviews about using them for dog treats; some people raved about them and some said it was hard to get the batter in and scraped so that the little treats came out separately instead of in one big hunk.
From what I read you would definitely need to make your batter runnier than the patty I made in my recipe, and you want to put it all in a blender to get it smooth. Then you pour it into the mold and use a rubber spatula to spread it out, and scrape extra off the top.
If you try this be aware that I have not tried it so do it at your own risk!
It will take some trial and error, and the recipe in this article won't work – you will need to experiment and make a runnier one (maybe just add an egg or more coconut oil), try it, and adjust as needed. But you don't learn new things if you don't try, and your dog will be more than happy to eat the batches that don't turn out!
This is a bigger pan, so I'm guessing you would double my recipe for this size, press it into the pan to the thickness you want, and bake!
I'm a big advocate for stainless steel pans, there is too much controversy out there about aluminum pans and food contamination.
Final Advice
So, what do you think—are you ready to make your own pumpkin treats for dogs? Be brave and be willing to try a little bit of this and a little of that; have fun with it!
If it gets too runny, add more tapioca powder. If it's too dry, add more canned pumpkin, or another egg.
Because the beauty of it is, no matter what you make and how it turns out, your dog will love it, and think you are the best owner EVER for making them some dog treats!
Here is my recipe to get you started—if you want a printable PDF version fill out the box below!
Get Your Free Printable Pumpkin Treats Recipe!
Homemade Pumpkin Dog Treats
1 egg
1 Tablespoon melted coconut oil
½ cup canned pumpkin
3 Tablespoons canned salmon
1 cup tapioca flour
½ cup leftover dried treat crumbles if you have them, otherwise add an additional ½ cup tapioca flour


Mix egg and melted coconut together, beat well with a fork.
Stir in canned pumpkin.
Add salmon, crushing it with a fork then mixing it in.
Sprinkle tapioca flour and dried treat crumble (or all tapioca flour) on the pumpkin mix, then stir in. Mixture should form a patty that is not too sticky. If it's sticky, add more flour.
Pat into a patty and press into a greased 10" cast iron skillet.
Bake in preheated 350º F (177º C) convection oven (a bit longer for non-convection) for 15 minutes.
Remove from oven and flip pan over to drop your treat patty on a cutting board to cool.
Once cool, cut into whatever size you would like to use. Put 1-2 cups in each Ziplock bag; keep one in the frig and freeze the rest.
Now that you're done, go buy yourself a latte or glass of wine with the money you just saved by making your own pumpkin dog treats!
And I'm going to go figure out what to do with that super smelly frozen tripe I'm afraid to use . . . !
Until next time-
Naturally,
Karen
Want to save this article for future reference? Save this Pin to your Dog Treats board!